Pregnancy in study
Maternity protection
As of January 1, 2018, the Maternity Protection Act (Mutterschutzgesetz, MuSchG) also applies to female students. A female student to whom the Maternity Protection Act applies is any person who is pregnant, has given birth to a child or is breastfeeding - regardless of the gender indicated in her birth registration.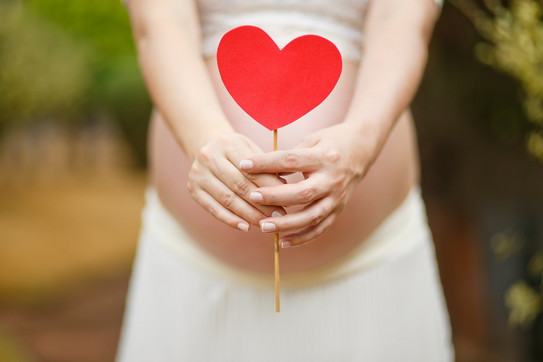 The aim of maternity protection is to enable pregnant and breastfeeding students to continue their studies , without adversely affecting the health of the pregnant woman, the unborn child, the nursing mother or her child. Any disadvantages due to pregnancy, childbirth or breastfeeding must be avoided or compensated for as far as possible.
The Maternity Protection Act protects you and your child against health hazards and disadvantages - during pregnancy, after delivery and during the breastfeeding period.
Notification of pregnancy and breatsfeeding period
How do I report my pregnancy or breastfeeding period?
According to § 15 MuSchG you are not obliged to inform the university about your pregnancy and the day of delivery. This also applies if you are breastfeeding.
However, we generally recommend that you inform the university in your own interest so that you can make use of the protection rights under the Maternity Protection Act. This is because only in the case of early notification can the university avert possible dangers for you as the expectant mother and your child in good time and arrange the necessary protective measures.
For notification, complete the Maternity Protection Notification form and upload a proof of your pregnancy (with a doctor's note or midwife's note indicating the expected date of birth). For the notification of breastfeeding period, please submit the birth certificate. In addition, the Maternity Protection Act requires the university to notify the responsible supervisory authority (Arnsberg district government). You can give us your consent via the notification form.
Upon receipt of the notification, the university will contact you in a timely manner.
If you are also employed as a student or research assistant at TU Dortmund University, please also report your pregnancy to Corporate Center Human Resources.
After you have reported your pregnancy, other parties involved (Department of Occupational Safety, Environmental Protection and Health Protection and contact persons in faculties) will be informed and consulted on your behalf as a pregnant person. Ms. Claudia Hannapper will contact you for the risk assessment. Please fill out this questionnaire and the overview of you lectures. Together with you and the lecturers, Claudia Hannappel will check whether there are any hazards for you and, if so, what your needs are for the continuation of your studies.
If you have any questions, please contact Katja Kißler from Family Service.