Promotion of young scientists
The TU Dortmund Graduate Center is cooperatively managed by Dr. Heike Wulfert (Research Funding Department) and Dr. Ute Zimmermann (Equal Opportunity, Family and Diversity Office). Together with the RUB Research School and the Graduate Center Plus of the UDE it forms the Research Academy Ruhr (RAR), in which the three universities of the University Alliance Ruhr (UA Ruhr) bundle all offers for their approximately 10,000 young scientists and jointly develop new concepts and formats.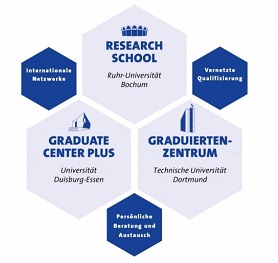 As one of the largest platforms of its kind in Germany, RAR offers the opportunity to build and expand cross-university networks, strengthen competencies, and specifically shape one's own career paths in research, business, and society. Its program is aimed at scientists in every career phase - from those interested in doctoral studies to Junior Faculty (post-doctoral researchers, junior research group leaders, junior professors).
The Staff Unit Equal Opportunity, Family and Diversity is responsible for two modules that are part of RAR's comprehensive skills training program: