Gender-equitable language:
TU Dortmund recommends the gender*star
"The TU Dortmund sees itself as a university of lived and valued diversity. Language shapes perception, thinking and behavior. Therefore, TU Dortmund recommends that its students and employees strive for inclusive and gender-appropriate language."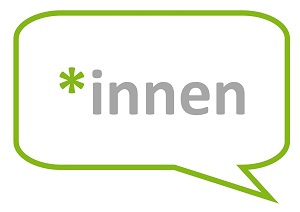 This is stated in the recommendation letter, which was written under the leadership of Prof. Sigrid Nieberle (Institute for Diversity Studies, Cognition ∩ Literature ∩ Media ∩ Language). Furthermore, the two-page document provides an overview of different possibilities of gender-equitable language use and gives concrete examples of its application.
In recent years, the Equal Opportunity Office has repeatedly received inquiries on the topic of gender-equitable language. Students, scientists and also administrative employees have requested assistance in the use of gender-equitable formulations. The Diversity* Working Group took these requests as an opportunity to draft a recommendation. The Senate has now taken note of these recommendations.
Explicitly recommended is the use of the gender* asterisk because it makes room for all gender identities: "The so-called truncation from the programming language stands in the machine language context for all other alphanumeric characters; in the human language context, the asterisk symbolically stands for that blank space in which female, male and non-binary people are represented."
Alternative variants that facilitate gender-appropriate communication depending on context and situation are also possible and are explained in the recommendation. It remains important to note, however, that using the purely masculine form is no longer appropriate. For example, the recommendation clarifies, "The generic masculine common in German violates the principle of appropriateness by merely 'including' or even associatively excluding women and non-binary people."
Recommendation of the TU Dortmund University on gender-equal language
More information
Lesch's Cosmos "Gender - Delusion or Science?" - the ZDF program from the Terra X series looks at research findings on the effects of gendered language. Does gendering change the way we think? Does our language affect our behavior? Is a gender-equal world better for men?
* The Diversity WG was established by the Rector in 2020 and works cooperatively on diversity issues at TU Dortmund University. In addition to the Rector, experts from all status groups at TU Dortmund University who deal with diversity issues in their work or research are represented in the WG. These include the Equal Opportunity Officer and the Head of the Equal Opportunity, Family and Diversity Office as well as representatives of several faculties, DoBus, AStA, the Student Advisory Service, the International Office, the zhb and the administration.