New Network
Female Professors at TU Dortmund Found Female Faculty Club
-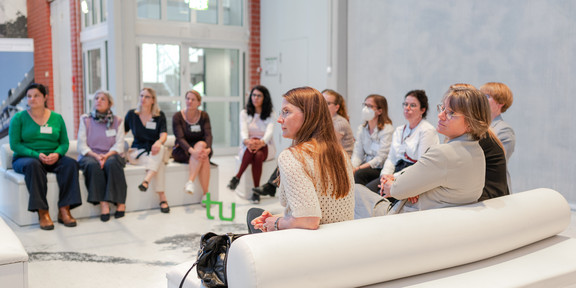 At a first assembly on June 8, 2022 in the energy hall of DASA, female professors from different faculties discussed which goals the new network should pursue, which topics are interesting for exchange and how cooperation can be structured.
The Female Faculty Club is not the first female professor network to exist at TU Dortmund University. In the 1980s, sociologist Prof. Sigrid Metz-Göckel regularly invited her female colleagues from Dortmund to network meetings. "At that time, all female professors at the University of Dortmund could still fit around her dining table," Rector Manfred Bayer recounted in his welcoming address. In the meantime, around 90 women hold professorships, junior professorships or substitute professorships at TU Dortmund University. Networking them in an interdisciplinary way is a concern that the rectorate is happy to support.
Dr. Ute Zimmermann, head of the Equal Opportunity, Family and Diversity Office, reported on how female professor networks at other universities work together and have an impact. She described the Women Professors Forum at the Ruhr University Bochum (RUB) as a special model. In addition to numerous activities for informal exchange, the forum has set itself some strategic goals and wants to contribute to increasing the proportion of women in all status groups at RUB.
Informal exchange and strategic goals
Which goals the Female Faculty Club would like to set was one of three questions the female professors from Dortmund discussed at DASA. They also collected topics that the Female Faculty Club should work on and developed ideas on how the cooperation of the network can be designed. It became clear in the discussions that it is above all the informal interdisciplinary exchange that makes a network attractive. But strategic goals were also mentioned. "It is not about making the profession of professor more attractive - that is attractive. It's about making TU Dortmund more attractive to women," stated Prof. Ricarda Steinmayr from the Faculty of Education, Psychology and Educational Research, and received a lot of approval for this.
The topics that the Female Faculty Club would like to deal with in the future are diverse. They range from practical concerns such as the exchange of information on committee work or the gender pay gap at professorial level to the development of common visions for the scientific community. Improving working conditions for all is to be discussed, as is the question of what constitutes good women's advancement and gender equality policy.
Regular meetings starting in fall
For further cooperation, the female professors agreed on a mixture of informal lunch meetings and structured evening events. The joint lunches are to take place monthly during the lecture period. The days of the week rotate so that all female professors have the opportunity to attend some of the meetings, regardless of fixed dates and courses. The evening event is scheduled annually for the first Wednesday in November. For November 2, 2022, a colleague from the Women Professor Forum at RUB will be invited. In addition, a shared confluence will be established and a newsletter will be published each semester to inform about newly appointed female professors as well as departures of female colleagues.
A toast to the network sealed the founding of the Female Faculty Club of TU Dortmund at DASA. Afterwards, the female professors took the opportunity for the first informal exchange in this round.
© Aliona Kardash​/​TU Dortmund

Der Female Faculty Club ist gegründet.

© Aliona Kardash​/​TU Dortmund

Der Rektor Prof. Manfred Bayer (Mitte) hatte zur ersten Assembly des Female Faculty Clubs eingeladen und begrüßte seine Kolleginnen.

© Aliona Kardash​/​TU Dortmund

Die Professorinnen nutzten die Gelegenheit zum Kennenlernen und Austauschen.

© Aliona Kardash​/​TU Dortmund

Zu Beginn der Veranstaltung bekamen die Anwesenden einen kurzen Input über das Wirken von Professorinnennetzwerken anderer Hochschulen.

© Aliona Kardash​/​TU Dortmund

Zur ersten Assembly traf sich der Female Faculty Club in der Energiehalle der DASA.

© Aliona Kardash​/​TU Dortmund

© Elisabeth Brenker​/​TU Dortmund

© Elisabeth Brenker​/​TU Dortmund

© Elisabeth Brenker​/​TU Dortmund
Next dates of the Female Faculty Club
Tuesday, October 31, 2023 (Open Topic) : Lunch Meeting
Wednesday, November 29, 2023: Lunch Meeting

The next Assembly will be held on Wednesday, January 24, 2024, starting at 5pm.
More information about the Female Faculty Club will be available on this page in the future.
Further information about the Female Faculty Club