Open Day at the Day Care Centers on TU Campus
-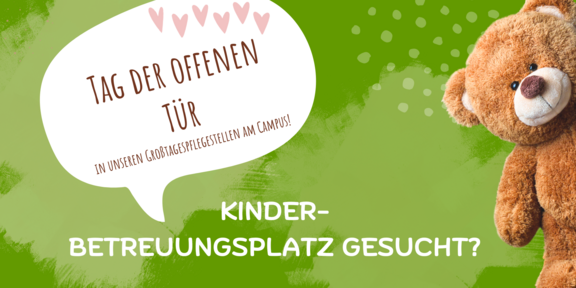 The first open day will take place on 30 January 2023!
The daycare parents from the 9x clever dwarfs and the Schlauschlümpfen invite together with the Mütterzentrum e.V. Dortmund interested parents and children. Interested parents have the opportunity to discover the childcare options on campus together with their child or children. On this day, you will get to know the daycare staff as well as the respective pedagogical expert advice of the facility, the premises and the concept of our facilities. Children from 2 months to 3 years of age are cared for in the facilities.
Campus North: The 9 x clever dwarfs invite you from 3:00 p.m to 5:00. p.m.
Campus South: The Schlauschlümpfe invite you from 02:00 p.m. to 04:00 p.m.
For better planning, please register by e-mail and indicate the number of people expected.
The Family Service as well as the team of the Mütterzentrum are looking forward to a great get-together.